From Graduate To CFO - How To Build A Career In Finance
Twenty years in recruitment – our best practice recruiting advice, tips and trends to help you get ahead in your career. This week "from Graduate to CFO".
Graduating as an accountant or becoming a finance professional presents excellent opportunities in the world of finance, accountancy, and tax. From becoming a treasurer in the public domain to a CFO in private finance, to fund management to a partner at one of the Big 4 firms.
Photo by Ian Schneider on Unsplash
If you have graduated in finance and are looking forward to advancing your career then this article is for you. We review the career journey of a finance professional from that of graduate to becoming a CFO.
Finance, tax services, auditing and compliance are some of the most business-critical areas – where finance graduates can explore many different roles through their career journey.
Career Journey of an Accountant or Finance Professional
Your professional entry into the world of accountancy begins with passing the exams for a bachelor's degree or attaining the required training for an accounting qualification. More information on choosing the suitable UK-based accounting qualification is available here and here and in our step-by-step guide to accounting here.
The specific career path taken will depend on a variety of factors such as the individual's goals, interests, and the industry in which they work. A finance professional typically starts with an entry level job such as Staff Accountant, Audit Associate, or Financial Analyst in an accounting department or firm. These positions provide exposure to various aspects of finance and accounting and offer opportunities for skills development and advancement.

Specialising in a Specific Area of Finance
As finance professionals advance in their careers, they may choose to specialise in a specific area of finance, such as corporate finance, tax or audit to gain more experience and develop skills. This leads them to take on managerial or supervisory roles, such as Financial Manager, Financial Controller, or Finance Director. These roles require strong leadership and management skills, as well as a deep knowledge of finance and accounting practices.
With significant experience and a proven track record of success, finance professionals may then advance to senior executive roles, such as Chief Financial Officer (CFO) or Treasurer. These roles require strategic thinking, strong decision-making abilities, and the ability to drive financial results for the organisation.
What Entry Level Jobs Are Available for Finance Professionals or Accountants?
There are many finance jobs available at entry level, however, the specific role responsibilities can vary depending on the company and industry. Here are some typical entry-level jobs for Accountants:
Staff Accountant,

Financial Analyst,

Audit Associate,

Payroll accountant,

Tax associate,

Accounts payable/receivable accountant
These positions in the accounting department of a company or a firm provide a solid foundation in accounting and financial management and can help individuals to gain the experience and skills necessary to advance in their careers.
What's Next for Your Career?
The plethora of opportunities will soon become available once you're an established Accountant or finance professional. These opportunities may lead you to apply for one of the senior executive positions in the world of finance. These positions include:
Controller,

Treasurer:

Director of Finance,

Tax Manager,

Audit Manager,

Financial Planning & Analysis Manager,

Chief Financial Officer (CFO)
These are just a few examples of senior-level roles in accounting and finance. They typically require advanced education and experience in accounting and finance. Individuals in these roles often have a strong understanding of financial management, advanced analytical skills, and a track record of success in leading teams and driving results.
What Specialised Areas Are Available in Finance?
There are many specialised areas for finance professionals which allow individuals to focus on areas of personal interest and expertise. Each of these areas offers unique opportunities for career development and enables finance professionals to build expertise in a specific area. Here are some of the more usual specialised areas of finance:
Corporate finance,

Investments,

Treasury,

Accounting,

Taxation,

Actuarial science,

Financial planning and analysis
What Is the Top Finance Job in the World of Finance and Accounting?
The most senior role in finance can vary depending on the company and the industry. For example, in a listed or private company the most senior position is Chief Financial Officer (CFO); in a public sector agency it is a Controller; in a fund it could be a Treasurer and in an accounting firm it is generally a Partner.
Who Are CFOs and What Is Their Role?
Chief Financial Officers (CFOs) are the top-most finance executives in the organisations and they are responsible for overseeing all financial operations and strategies. CFOs work closely with other company executives and the board of directors to make financial decisions that support the long-term success of the organisation.
The role of the CFO in the business is to provide strategic financial leadership and direction. CFOs are entrusted with responsibility of managing the company's financial resources, including cash and investments by developing and implementing the company's financial strategy. CFOs are often called upon to solve complex financial problems and make decisions that have a significant impact on a company's economic performance.
What Does It Take To Become a CFO?
The journey to becoming a Chief Financial Officer involves a variety of steps and can take several years. Typically it starts with a relevant education. Most CFOs have a bachelor's or master's degree in finance, accounting, business administration or a related business school degree. Many CFOs also have professional certifications such as Chartered Financial Analyst (CFA), Chartered Accountant (ACA) or Chartered Management Accountant (CMA).
After completing their education, a CFO's career path starts with entry-level positions in finance or accounting. As they gain experience, many CFOs move up the ranks to more senior roles in finance, such as Controller, Treasury Manager, or Director of Finance.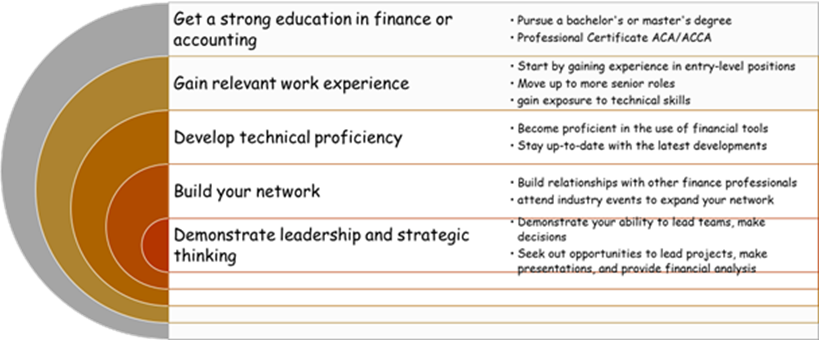 Networking, Building Relationships, and Continued Education and Professional Development
To become a Chief Financial Officer, it is important to develop leadership skills and experience in managing teams as well as collaborating with various functions such as sales & marketing, administration and human resources within the organisation. Networking and building relationships with industry professionals can also be helpful in advancing a career in finance. Attending industry conferences, participating in professional organisations, and connecting with other finance professionals can be beneficial.
Opportunities to become a CFO can come from within a company, or from seeking out new opportunities at other companies. Finance professionals must be proactive in seeking out opportunities and be prepared to demonstrate their skills and experience.
Finally, to maintain their skills and knowledge, CFOs must focus on their continued education and professional development. This can include attending industry conferences, reading industry publications, and taking courses to stay up to date on best practice and emerging trends.
Which Characteristics Do You Need To Become a CFO?
Specific qualities required for a Chief Financial Officer position may vary based on the size and type of company, industry, and geographic location. Generally, CFOs possess the following qualities to become successful in their role: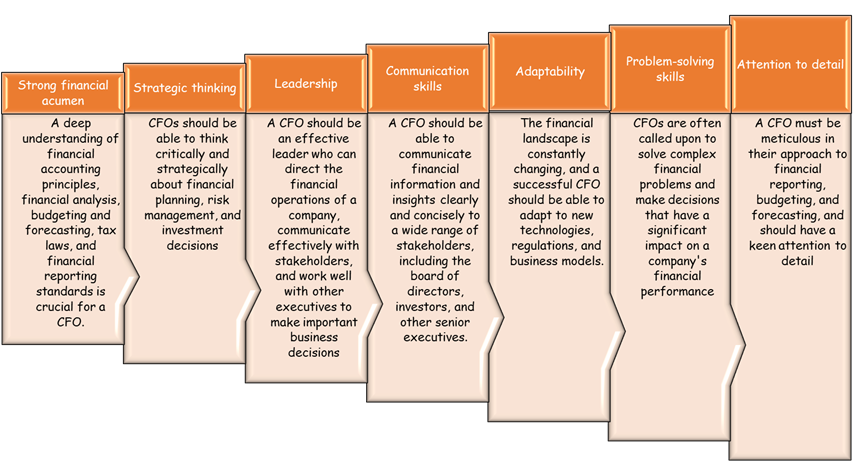 What Are the Education and Experience Requirements To Become a CFO?
The specific education and experience requirements for a Chief Financial Officer position may vary depending on the needs of the company. Some companies may place more emphasis on particular qualifications or skills, such as experience in a specific industry or proficiency in a certain financial software and others may look for particular market exposure.
Mostly companies require a bachelor's or master's degree in finance, accounting, business administration, or a related field for the position of CFO. Some companies may also require ACA or ACCA designation.
A CFO will have several years of experience in finance and accounting. This experience is often gained through progressively responsible roles such as Financial Analyst, Controller, or Director of Finance. A CFO should have a strong understanding of financial accounting principles, financial analysis, budgeting and forecasting, risk management, tax laws and regulations, and financial reporting standards. CFOs are also expected to be proficient in the use of financial software and technology, including spreadsheet programmes, accounting software, and data analytics tools.
How Many Years of Experience Is Required To Become a CFO?
The required number of years of experience for a CFO position can vary depending on the size and type of company, industry, and geographic location. However, it is common for CFOs to have several years of experience in finance and accounting, including experience in senior management positions.
In general, most CFOs have at least 10-15 years of experience in finance and accounting, with some CFOs having even more. The number length of time required for a CFO position may also depend on the level of responsibility and complexity of the role, as well as the size and financial performance of the company.
It is important to note that while a certain number of years of experience is essential, a CFO's success also depends on their education, technical skills, leadership skills, strategic thinking, and financial acumen.
Critical Success Factors for CFO Career Path
There are several key factors that are generally considered to be critical to the success of a CFO. Overall, this will vary depending on the specific circumstances of both the company and the individual, but the ability to effectively manage financial and business risks, to think strategically, and to effectively communicate and lead are vital factors that are common to most successful CFOs:

Challenges for CFOs
CFOs face a number of challenges in their role. They must manage the financial resources of the company effectively, including controlling the budget by allocating resources to areas of the highest priority and keep a balance between the short-term financial goals of the company and its long-term strategic objectives. This requires balancing the need to invest in growth initiatives with the need to maintain financial stability and manage risk.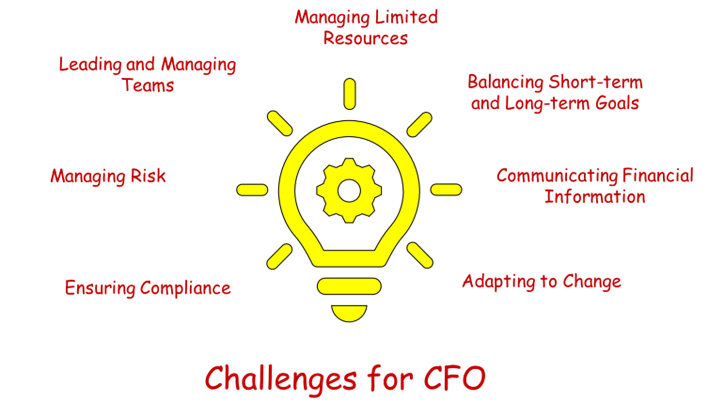 The business environment is constantly changing, and CFOs must be able to adapt to new challenges and opportunities. This includes staying up to date with new technologies and financial reporting standards and being able to quickly respond to changes in the market or the economy.
In summary, the role of a CFO is challenging and requires a combination of financial expertise, technical proficiency, leadership skills, strategic thinking, and the ability to effectively communicate and manage risk.
Earnings of CFO
The earnings of a CFO can vary widely depending on factors such as the size and industry of the company, the location of the company, and the experience and qualifications of the CFO.
According to data from salary comparison websites, the average salary for a CFO in the UK is around £120,000 per year, although salaries can range from £80,000 to over £200,000 per year. Some CFOs may also receive additional compensation in the form of bonuses, stock options, and other benefits.
It's important to note that salaries for CFOs can vary widely based on the specific circumstances of the company and the individual, and these figures should be used as a general guideline rather than a definitive answer. If you are interested in pursuing a career as a CFO in the UK, it is recommended that you research the salaries for CFOs in your desired industry and location, and network with individuals in the field to gain a better understanding of the market.
Can a Big 4 Background Help in Becoming a CFO?
Many individuals who work for one of the "Big 4" accounting firms (Deloitte, PwC, KPMG, or EY) go on to become CFOs of companies. The Big 4 firms are known for their rigorous training and development programmes, and they provide opportunities for individuals to gain experience and develop their skills in a fast-paced and dynamic environment.
Individuals who work for a Big 4 firm typically gain a strong foundation in accounting and financial management, as well as experience working on complex financial and business issues. They also develop a network of contacts and gain exposure to best practices and industry trends. However, becoming a CFO from a Big 4 background is not guaranteed, as individuals will also need to demonstrate strong leadership, strategic thinking, and financial management skills, and may need to gain additional experience in a specific industry before being considered for a CFO role.
Future of CFOs
The role of the CFO is evolving as technology and the business environment change. Companies are leveraging technologies such as artificial intelligence (AI), machine learning, and data analytics to automate manual processes, improve decision-making, and provide more accurate and timely financial information. This will make many positions in finance redundant, however those Accountants and finance professionals with technology knowledge, strategic thinking and commercial acumen will always remain in demand.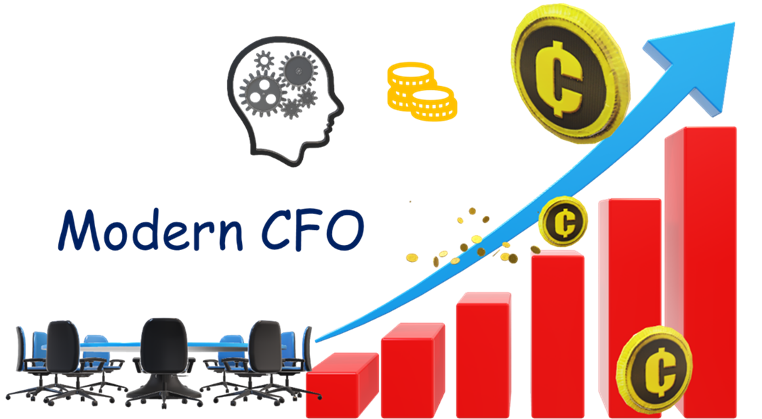 CFOs are moving beyond their traditional role of financial management and are increasingly involved in strategic planning and decision-making, including working with senior executives to set corporate strategy and helping to drive business growth. As businesses increasingly focus on sustainability and environmental, social, and governance (ESG) issues, CFOs are being called upon to help manage and report on these issues, and to ensure that they are integrated into the company's financial planning and decision-making.
Overall, the future of the CFO role is likely to involve a continued evolution to keep pace with the changes in technology and business environment, and to meet the ever-pressing needs of businesses and stakeholders. The ability of CFOs to adapt and embrace change will be critical to their success in this dynamic role.
Conclusion
Whilst the journey to becoming a CFO can be challenging, it can also be rewarding. The correct planning, dedication and focus is the key to success. The following are some of the most critical steps which may help in the path to becoming a CFO:
Prepare for a career in finance and gain the required education and experience

Develop strong quantitative and analytical skills using various financial tools

Build your network with experts in the field of finance

Study for a professional certification in finance such as ACA or ACCA

Understand the impact on global markets, capital markets, and economy at large and keep up to date with the latest trends.
To find out more about a career in finance and accounting, please visit our resources pages here and here, or search for accountant and finance roles here.
See also Finance Manager Salary & Pay here.
14-05-2021