Internal Auditor Job Description and Profile
Who Are Internal Auditors?
The job of internal auditors, entrusted with examining the company's financial statements, operations, and business processes, is sometimes viewed as a source of discontent in the corporate world. However, in reality, they are the Batman of the boardroom, rising to save the day when things go wrong and defending the organisation against fraud, corruption, and other nefarious activities. The Institute of Internal Auditors (IIA) defines internal auditing as follows:
"Internal auditing is an independent, objective assurance and consulting activity designed to add value and improve an organisation's operations. It helps an organisation accomplish its objectives by bringing a systematic, disciplined approach to evaluate and improve the effectiveness of risk management, control, and governance processes".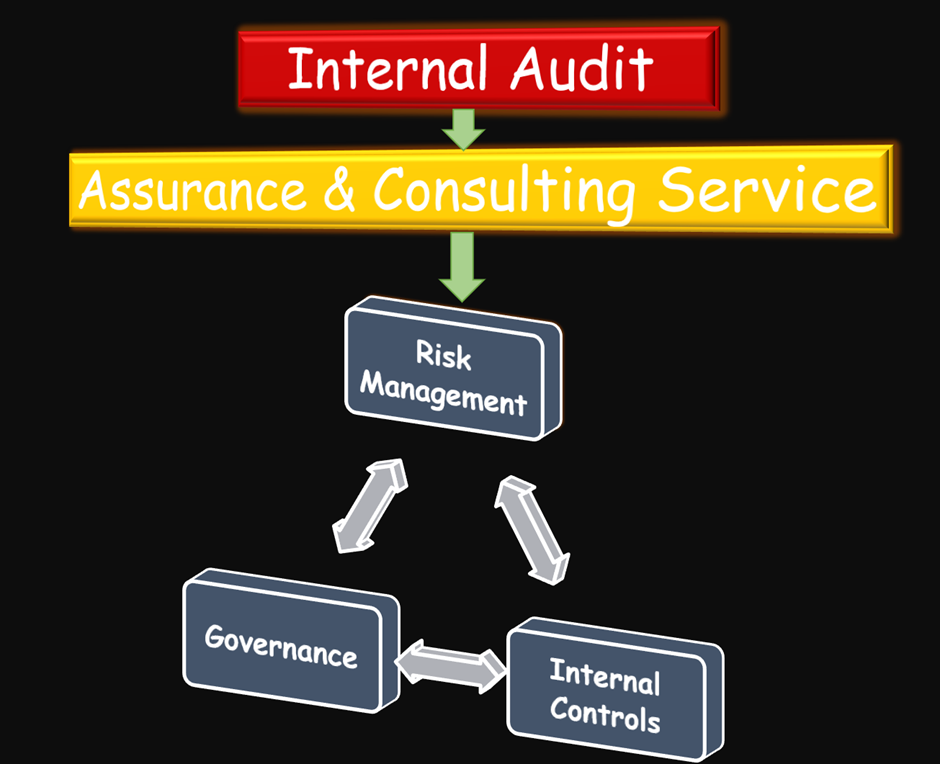 What Does an Internal Auditor Do?
Internal Auditors are considered the third line of defence for the organisation. They protect businesses from internal and external risks by raising red flags in appropriate forums and taking adequate mitigating actions to keep these risks within an acceptable level. Internal Auditors report to the Board Audit Committee, and they use a systematic process which includes the following steps:
Audit Planning
Includes issuing the engagement letter, preparing a Risk and control Matrix (RCM) and audit programme, a list of information and scheduling the meetings.
Fieldwork
Fieldwork is completing the audit programme by gathering, reviewing, evaluating the information, and documenting the conclusions.
Reporting
Involves issuing an audit findings memorandum, conducting an audit closing meeting and issuing the draft and final audit reports.
Follow-up
Follow-up is a process of checking with the auditee the status of the agreed action plan—the follow-up of each audit's timing decided upon the audit's closing.
Additionally, the Internal Auditor will also complete the Audit Committee's document process by presenting periodic reports on audit findings and the progress of the audit plan. 

Photo by Marten Bjork on Unsplash
How Has the Internal Auditor Role Evolved?
The role of the Internal Auditor has evolved over the years from a purely compliance-driven function to that of a strategic business partner that helps organisations achieve their goals and objectives.
The Institute of Internal Auditors (IIA) is a global body that governs the internal audit profession. In 1941, in North America, the IIA was founded. And it now has a presence with 200 chapters in more than 170 countries.
Historically, Internal Auditors were watchdogs, responsible for ensuring that the organisation complied with the relevant laws, regulations, and internal policies. In the 1990s, with the emergence of new rules and technologies, there was a shift in the Internal Auditor's job role to that of a more proactive approach. The IIA introduced the International Standards for the Professional Practice of Internal Auditing (Standards), which guide the conduct of internal audits and the management of internal audit functions. Internal Auditors, after that, began to focus more on risk management, identifying potential risks to the organisation and developing strategies to mitigate those risks.
In the early 2000s, Internal Auditors began to work closely with senior management to identify key business risks and provide recommendations for managing those risks. They also focused on value-added activities, such as process improvement and operational efficiency.
Today, the Internal Auditor role has evolved even further. Internal Auditors are now seen as trusted advisors to the organisation, providing insights and recommendations to senior management on a wide range of strategic, operational, and financial issues. They are also involved in various activities, such as corporate governance, ethics, and sustainability.

Photo by Luis Villasmil on Unsplash
How Do You Become an Internal Auditor?
To become an Internal Auditor, you must obtain relevant education and professional certifications. You may start as a company trainee or intern to gain auditing experience and develop your technical and soft skills to excel. Networking is essential in any industry, attending industry events, joining professional associations, and connecting with other professionals in the field.
Once you have the necessary education, experience, certification, and skills, you should apply for Internal Auditor positions. You can find job openings on online job boards, company websites, or through professional associations. Tailor your resume and cover letter to the job requirements and highlight your relevant experience and skills.
Internal Auditor Skills and Qualifications
Internal Auditor responsibilities include evaluating and assessing the effectiveness of an organisation's internal controls, risk management, and governance processes. Their profile requires a combination of education, experience, skills, knowledge and attitude to carry out their responsibilities effectively. Here is the typical profile of a successful Internal Auditor:
Education
Auditors generally hold a bachelor's or master's degree in accounting, finance, or a related field. They may also have a professional certification such as Certified Internal Auditor (CIA), Certified Public Accountant (CPA), or Chartered Accountant (ACA).
Experience
Auditors usually have several years of experience in accounting, finance, or auditing. Many successful Internal Auditors come from a Big Four background.
Knowledge
Auditors need to have a solid understanding of accounting principles, finance, and risk management. They must also know relevant laws, regulations, and industry standards.
Skills
Auditors need strong analytical, critical thinking, and problem-solving skills to evaluate an organisation's internal controls, identify potential risks, and recommend solutions. They also need strong communication skills to communicate findings and recommendations effectively to senior management and other stakeholders.
Attitude
Auditors must follow a Professional Code of Ethics, which requires them to comply with "Integrity, Objectivity, Confidentiality, and Competency". They should have a curious mindset, always seeking to understand how the organisation operates and where potential risks may lie.
Professional Development
Internal auditing is a continuously evolving field, and staying up to date with industry developments, regulations, and best practices is essential. Auditors need to attend conferences, take training courses, and stay informed about new trends in the field.
Internal Auditor Job Description
An organisation can modify the job description of an internal auditor to meet their needs and the position's specifications. Here is an example of an Internal Auditor's job description: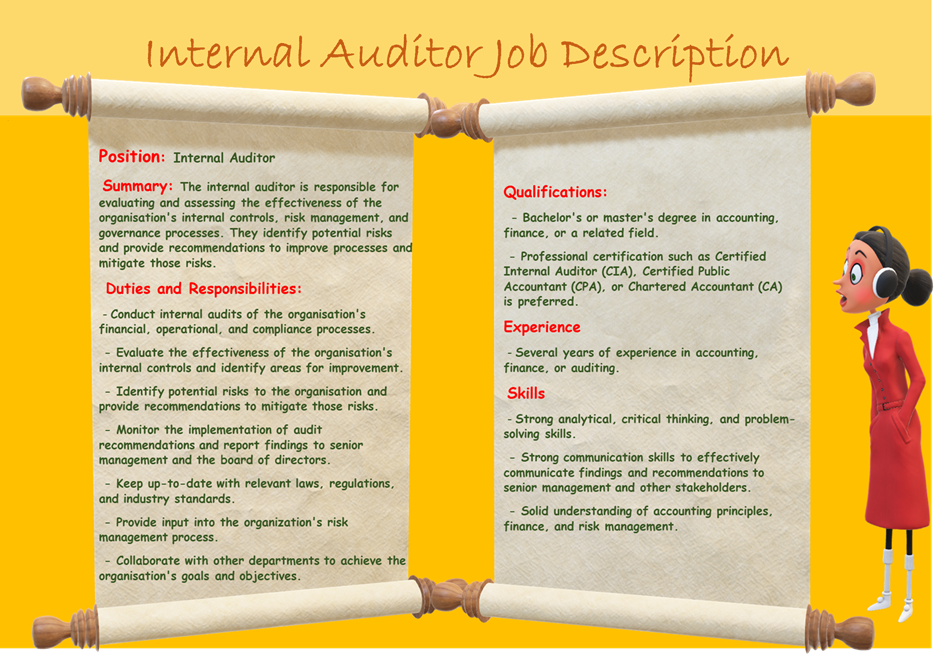 What Are the Elements of Modern Internal Audit Methodology?
Modern internal audit methodology has evolved to keep pace with the changing business environment and the increasing complexity of organisations. It involves a risk-based approach which focuses on identifying and assessing risks to the organisation and providing assurance of effective risk management. Consequently, Auditors develop their annual internal audit plan based on the level of risk to the organisation rather than conducting audits on a random or periodic basis.
Auditors are adopting agile methodology, which emphasises collaboration, flexibility, and continuous improvement; this helps them to adapt to changing circumstances and deliver value-added insights and recommendations to the organisation. Additionally, Auditors are working closely with other assurance providers, such as compliance, IT security, and risk management, to provide integrated assurance to the organisation.
Auditors also use data analytics to spot anomalies, trends, and patterns in large volumes of data, which helps to identify potential risks and areas for improvement.
What Is the Future of the Internal Auditor Role?
The scope of the internal audit role has significantly evolved over the past several decades and will continue to change with new challenges and opportunities. In addition to their traditional role, Auditors increasingly provide assurance and advisory services in other areas, such as cybersecurity, sustainability, and culture. Overall, the future for the internal audit job role looks promising, but it will require them to adapt and develop new skills to meet changing priorities for organisations.
Learn More About a Career as an Internal Auditor
How to Become an Internal Auditor, Qualifications, Skills & Requirements, CV Template & Examples & Salary
Search Jobs to find out about the Internal Auditor job roles we currently have available.